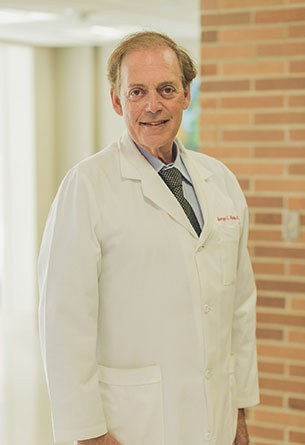 Chief of Allergy & Immunology
Fellow of the American Academy of Allergy, Asthma & Immunology
Fellow of the College of Chest Physicians
Lankenau Hospital of the Main Line Health System
For Allergy & Asthma expertise you can trust, Dr. George L. Martin's impressive litany of credentials, awards and publications certainly serves to put a patient's mind at ease.
His education didn't stop with his graduation at medical school in Chicago, Illinois. Dr. Martin then went on to further his training at hospitals in New York (North Shore University Hospital and Sloan-Kettering Memorial Hospital among them). He's taught at prestigious institutions such as Cornell Medical School in both Manhasset and NYC, and the University of Pennsylvania. He is currently Clinical Assistant Professor at the Department of Medicine, Thomas Jefferson University, School of Medicine.
Dr. Martin is involved in many professional programs, committees and speakers' bureaus. He is licensed in both New York and Pennsylvania and board certified with the National Board of Medical Examiners, the American Board of Internal Medicine and the American Board of Allergy & Immunology.
His hospital staff appointments have included Main Line Health System Chief (Division of Allergy & Immunology); Consultant at Delaware County Memorial Hospital (Division of Pediatrics) and Chief of Allergy & Immunology at Lankenau Hospital of the Main Line Health System, among others.
Dr. Martin's career publications listing is as long as his awards, honors and memberships listing, which is stellar. Some include:
Alpha Omega Alpha Honor Medical Society
American Academy of Allergy Travel Grant
American College of Allergy & Immunology
Board Certified Adult & Pediatric Allergy & Asthma
Board Certified Internal Medicine
Chief of Allergy & Immunology Lankenau Hospital of Main Life Health System
Diplomate, American Board of Allergy & Immunology
Diplomate, American Board of Internal Medicine
Diplomate, National Board of Medical Examiners
Fellow, American Academy of Allergy, Asthma & Immunology
Fellow, American College of Chest Physicians
Mosby Award
Pennsylvania Allergy Society
Philadelphia Allergy Society
Society of Sigma XI, The Scientific Research Society
His professional and community educational programs are too numerous to mention here. And his press coverage has been outstanding with radio interviews on WPEN and WPHT as well as features in the Philadelphia Inquirer, Golf Magazine, Asthma Magazine, Main Line Today Magazine & Main Line Life publications, among others. Lucky for Allergy & Immunology, television has captured his expert opinion on channels from NBC to CNBC and everything in between!
Meet Dr. Martin for yourself and let his vast experience and knowledge improve your allergy and respiratory concerns! Why wait any longer?
Dr. Martin is an avid outdoorsman, and enjoys spending his spare time boating and fishing on the Jersey coast of LBI with his wife and two sons. He is also a certified scuba diver and a certified private pilot.