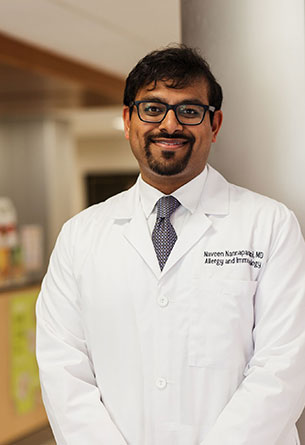 Dr. Nannapaneni (Dr. N) is a board certified adult and pediatric Allergy and Immunology physician. He is a native of Bloomfield Hills, Michigan and graduated with honors from the University of Michigan in Ann Arbor where he majored in Cellular & Molecular Biology with a minor in Science, Technology, & Society. He attended medical school at Wayne State University School of Medicine in Detroit, Michigan. Dr. N completed his residency in Internal Medicine at Wayne State University and the Detroit Medical Center, where he was awarded as the outstanding clinical resident. He stayed to pursue a fellowship in Allergy & Clinical Immunology and worked as a faculty member after completing his training.
Dr. N has been involved in Allergy & Immunology research focusing on the application of smartphone technology in patient care, high risk asthma, allergen immunotherapy, and secondary immunodeficiencies. He has presented his work and lectured at multiple national conferences including the prestigious AAAAI and ACAAI annual meetings.
Dr. N's philosophy is to treat each patient with the same care, attention, and dignity as he would a family member. As a third generation physician he has always emphasized the importance of family and health. He carries forward the value of personalized medicine in his everyday practice.
In his free time, Dr. N is an avid sports fan who enjoys to travel and is learning about photography.